Formula One embarks on carbon-cutting drive
By Richard Black
Environment correspondent, BBC News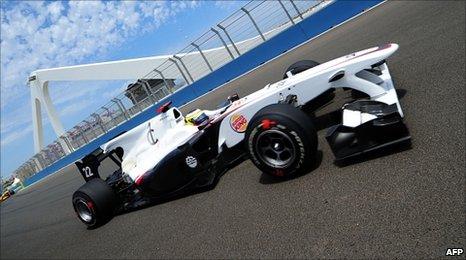 The notoriously gas-guzzling sport of Formula One is on track to curb its carbon footprint.
The Formula One Teams Association is unveiling an analysis that projects an emissions cut of 15% in three years.
Fota says the sport is the first to have a comprehensive and externally audited carbon reduction programme.
Further ambitions may include a doubling of energy efficiency in engines, which manufacturers hope would feed through into road cars.
Sources say one of the drivers behind the programme is pressure from sponsors, who are increasingly keen to be associated with a "greener" product.
The audit has been carried out by the consultancy Trucost, whose chief operating officer Richard Mattison told BBC News: "We've been able to analyse all drivers of carbon emissions, from logistics right down to the engines themselves.
"There's a lot of data in teams - more so than in most businesses - and we were able to analyse it and see how and where they were going to make reductions."
Running cars' engines in races and testing accounts for less than 1% of the sport's emissions, even though the cars run at less than five miles per gallon.
About half of the emissions are associated with items the teams buy in; other major sources are the transport that takes teams and equipment from race to race, and electricity, large slices of which are consumed by wind tunnels.
Formula One's regular cost-cutting programmes include some measures that will also reduce carbon emissions; and Trucost calculates that plans already in place will cut emissions by about 15% from 2009 levels by 2012.
"With the support of all its member teams, Fota has... undertaken to maintain continuous and independent analysis and assessment in order to ensure that these carbon emissions reduction targets are met or bettered, and to investigate where further carbon emissions reduction opportunities may exist," said Martin Whitmarsh, Fota chairman and team principal of Vodafone McLaren Mercedes.
"In addition, the FIA (Federation Internationale de l'Automobile, the sport's governing body) and Fota are already working together to tailor the 2013 technical regulations to ensuring that all engines and powertrains used in Formula One by that date will showcase, and provide a platform for the ongoing development of, technologies designed to enhance fuel efficiency."
One option the FIA and engine manufacturers are considering from 2013 is increasing engine efficiency through limiting the amount of fuel that each car can use.
Currently, each car will burn about 160kg of petrol in an average race in its 2.4 litre normally-aspirated V8 engine.
Under this scenario, engines would be made much smaller - about 1.5 litres, in either a straight 4-cylinder or V6 configuration - and turbocharged.
Then the amount of fuel allotted to each car would be progressively decreased over successive seasons, perhaps down to about 80kg within five years, with manufacturers aiming to hold power output at current levels - which would imply a virtual doubling of energy efficiency from today's standard.
Backers point out that if this sort of design improvement materialised and was fed back into road cars, it could make curbing vehicle emissions significantly easier.
Meanwhile, emissions associated with travelling around the world from race to race could be tackled by rationalising the race calendar, with better co-ordination of segments of the season in Asia, Europe and the Americas.
Formula One, with its high-consuming cars, glossy advertising and expensive globe-trotting teams, has sometimes been accused of "greenwashing" its own image.
But Richard Mattison said that through this programme, the sport "has demonstrated its commitment to becoming more environmentally efficient, and will continue to lead the way in developing innovations that will improve efficiency across the automotive industry globally.
"We could choose to work with quite benign industries only, and we could help them improve their performance; but that's not going to change the world's emissions in a meaningful way," he said.
"What's needed is for large organisations in more carbon-intensive industries to make real commitments... I think this is a great step forwards."
Related Internet Links
The BBC is not responsible for the content of external sites.