One in nine places of worship in 'poor or bad state'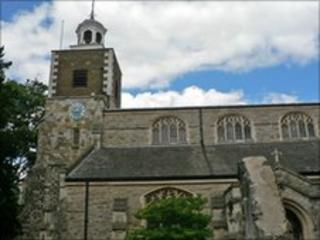 About one in nine listed places of worship in England are potentially at risk because they are in a poor or very bad condition, according to a survey.
English Heritage said an estimated £925m of outstanding repairs was needed over the next five years.
But it found that 89% of sites were in a good or fair state, largely thanks to the hard work of congregations.
The Churches Conservation Trust warned that 20 or 30 churches were still closing each year in England.
English Heritage surveyed 2,215 buildings and found that 11% were in a poor or very bad state.
Those in rural areas were, overall, more likely to be run-down, but in certain urban areas the proportion at risk was significantly higher.
In Tower Hamlets and Hackney, in London, 21% were judged poor or very bad. In inner city Birmingham, the figure was even higher at 28%, including 11 of the 32 listed synagogues.
'Lend a hand'
Chief executive of English Heritage Dr Simon Thurley said: "The current climate of increased unemployment, low interest rates and reduced returns on invested capital make fundraising a greater challenge than ever.
"Alongside this, some congregations are finding the responsibility harder to bear unless their whole community comes together to support its most historic and iconic building.
"I urge everyone who cares about their local church, chapel, synagogue or other place of worship to lend a hand.
"Don't be put off by what might seem like an impossible challenge - the key is to do small things really well.
"Clearing gutters could save the need for a whole new roof or renewing damp walls at a cost of thousands of pounds."
Minister for Tourism and Heritage John Penrose said places of worship were "central to most people's views of our heritage".
"I am delighted that they're overwhelmingly in fine shape," he said.
"It's a testament not only to public funding but, more importantly, to the dedication and hard work of thousands of volunteers who give up their time to keep them in good order."
But Crispin Truman, chief executive of the Churches Conservation Trust, warned that churches were still closing at a worrying rate.
"These buildings are of significant national and community importance," he said.
"Alternative and diverse community-led approaches, ranging from conservation to shared use, must be the priority to keep these buildings open and in use."