Universities shake-up 'welcomed'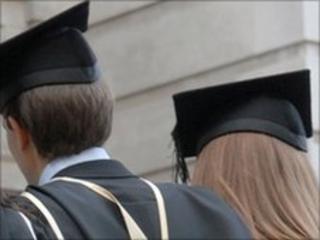 A plan to close smaller Welsh universities has been broadly welcomed by education professionals.
Education Minister Leighton Andrews has indicated smaller bodies will be forced into mergers, meaning a reduced number of Higher Education (HE) institutions.
Sir Adrian Webb, former vice-chancellor of the University of Glamorgan, said Wales had too many HE institutions.
Katie Dalton, NUS Wales president said she welcomed the commitment to protecting student numbers.
Sir Adrian, who is also chair of the Wales Employment and Skills Board (WESB), said: "Logically having 12 or 13 higher education institutions in a country with the population of Birmingham looks strange."
'Not assumed'
The WESB produced a report last month which said they did not believe "the case for moving to fewer, larger institutions has been especially well articulated".
"It must be demonstrated, not assumed, that mergers would increase efficiency without reducing flexibility and responsiveness," it said.
Sir Adrian said larger universities should be created only if they could be shown to be more efficient.
He said the economic climate made it more important than ever for HE institutions to think about how they could create the right skills and produce the type of research that benefited local and regional companies.
He added: "The important thing now is that mergers should work to increase the efficiency and effectiveness of institutions to deliver value on a local, regional and international basis."
'Working energetically'
The minister told assembly members there would be "significantly fewer" HE institutions by 2013, which would not mean fewer students, but fewer vice-chancellors.
Analysis suggests that Mr Andrews' plan would mean at least three universities would have no choice but to seek to merge with other bodies.
They include Wales' two newest universities Glyndwr, in Wrexham, and Trinity Saint David's in Carmarthen and Lampeter, which was formed by a merger earlier this year.
The other university affected is Swansea Metropolitan.
Prof Noel Lloyd, chair of Higher Education Wales (HEW) said: "Discussions regarding future arrangements to deliver for students are proceeding apace in Wales."
He said it included a "major new collaborative grouping" between Trinity University College, Swansea Metropolitan University, and three FE colleges in south west Wales, whilst the University of Wales, Newport was working with regional FE college partners.
Prof Lloyd said universities in Wales were "working energetically" on joint agendas in crucial areas such as widening access, Welsh medium higher education, relationships with business and research performance.
Glyndwr university said it was the fastest growing university in Wales and it was "confident that it will meet the size requirement within the timescale set out by the minister".
Katie Dalton, NUS Wales president, said: "Although we welcome the minister's aim for higher education institutions to cut waste, secure more funding and enhance their international reputations, it is clear that the government needs to be careful about unintended consequences if the number is to be significantly reduced by 2013.
'Less mobile'
"It must be recognised that different types of students benefit from different types of institutions, and this needs to be taken into consideration when decisions are made."
She said it was important that mergers did not result in cuts to delivery, and that students from "less mobile backgrounds were still able to access higher education in their local areas".
She added: "However, aside from these concerns, we do welcome the Minister's commitment to protecting student numbers and to increasing the proportion of HE students from disadvantaged communities in Wales."
Mr Andrews said: "We have said for many years that the higher education sector in Wales needs to punch further above its weight.
"It's not delivering what it should be in terms of research income for Wales, we don't believe the contribution to the Welsh economy is as strong as it should be, nor do we believe the access agenda has been pursued as well as it might be.
"There has been some good success in some areas but we think they could do better."