House prices up again in June, says Nationwide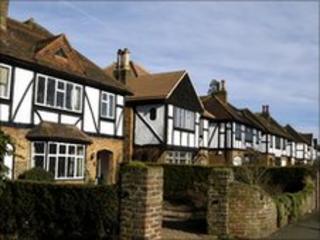 House prices rose again in June but only by 0.1%, according to the Nationwide building society.
The rise follows a 0.5% increase in May, with the average property in the UK now costing more than £170,000.
Prices have risen by 3% since the start of the year, the Nationwide's house price index showed.
However, the rate of annual house price inflation fell again to 8.7%, with prices rising more slowly than they did this time last year.
Commenting on the figures, Nationwide's chief economist Martin Gahbauer said the slowdown may be due to an increase in the number of properties up for sale.
"Recent indicators point to an increase in the supply of property coming to the market for sale, perhaps in response to the abolition of Hips (Home Information Packs) in the opening days of the new coalition government," he said.
"With the level of demand remaining broadly stable, this would in part help to explain the recent slowdown observed in the rate of house price inflation."
The coalition government confirmed that Hips would be abolished following the election in May.
Future prices
Mr Gahbauer added that he expected the annual rate of house price inflation to keep falling over the coming months as a result of the very strong house price increases seen in the summer of 2009.
Various house price surveys have suggested that property values have remained relatively static in 2010. This is the first survey that covers prices in June.
Mr Gahbauer said that the change in the top rate of capital gains tax to 28%, to be paid when people sell, give away or dispose of shares or property, is unlikely to have a major effect on the supply of properties on the market.
David Smith, of property consultants Carter Jonas, said: "Where house prices go from here is difficult to predict because there are so many factors at work at the moment.
"The fallout from the Budget will certainly have a major role to play in the coming months, with uncertainty surrounding impending public sector cuts and higher taxes, and of course we still have the ever-present threat of interest rate rises in the mix.
"Although these figures suggest house prices are starting to flatten out at their current level, the top end of the market is still performing remarkably well, with double-digit price growth since the start of the year, and a stronger than ever demand for properties in desirable locations."
Over the second quarter of the year, the South West of England saw the strongest house price growth with prices rising by 3%, followed by the North West at 2.6% and London at 2.5%, the Nationwide said.
The average cost of a home is continuing to fall in Northern Ireland, with prices dropping by 5.7% during the second quarter, while growth was slowest in the East Midlands at 1.2%.