Renewed appeal over Blackburn alley killing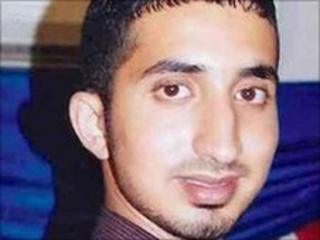 Police in Lancashire are still trying to trace a man over the murder of a 24-year-old who was stabbed to death in a suspected honour killing.
Saheel Ahmed was found dead in the alley near Warrington Street in Blackburn early on Tuesday.
Detectives have said they want to speak to Naeem Majid Butt, 37, of Blackburn, who is thought to be in Edinburgh.
Officers are also urging anyone who may have seen or heard anything suspicious in the Zion Road area to contact them.
Det Ch Insp Mark Gray said: "I would ask people who live in the Zion Road area to cast their minds back to last Tuesday night.
Alleged affair
"I appreciate it was the very early hours of the morning, but did you see or hear anybody acting suspiciously between 12.45am and 1.40am?
"What may seem insignificant could turn out to be crucial to this investigation so I would urge anybody who thinks they may have any information which could help with this inquiry to contact police."
Police believe Mr Ahmed was chased by a man wielding a knife just before he was attacked.
Officers also believe it may have been provoked by an alleged affair between the victim and a woman.
Mr Butt is described as 5ft 10in tall, with a medium to slim build, dark hair and brown eyes.
He has a piercing in both ears, as well as a number of tattoos, including a scorpion and peacock on his left arm and a cobra on his left hand.