Fishing crew's SOS 'unnoticed' by ships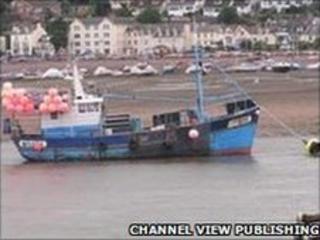 An investigation into a sea collision which left a fisherman dead found that vessels in the area failed to respond to distress calls.
The Devon trawler Etoile des Ondes was run down by a bulk carrier in thick fog in the English Channel in December.
One of the boat's crew, Chris Wadsworth, 21, was never found.
A report by the Marine Accident Investigation Branch said failing to respond to the SOS was a "dereliction" of a mariner's duty.
The 15m (50ft) crabbing vessel, based in Teignmouth, was run down by the 90,000 tonne Alam Pintar from Singapore on 20 December. The bulk carrier continued to Hamburg.
'Poor lookouts'
Three of the four fisherman managed to get into a life raft and let off distress flares but they were unnoticed by nearby ships.
The MAIB said several other vessels were in the area but they also failed to respond to mayday messages that were relayed several times by the coastguard.
The report did not name the vessels but said poor lookouts by the crew meant the flares went unnoticed.
The three fishermen were eventually picked up by a passing ferry.
The report concluded: "Even at the height of war, civilised combatants went to great lengths to save the lives of sailors from enemy vessels they had sunk. Yet, here we are, in the 21st century, finding ships failing to respond to mayday messages."
Billy Bean, of the Warsash Maritime Academy, which is part of Southampton Solent University, said: "It directly contravenes the major conventions that are set aside to guide seafarers along these lines.
"There is a requirement by law as well as a moral obligation to answer the call of a seafarer in distress at sea and that appears to be the thing that has been ignored in this occasion."