RMT boss issues a 'call to arms'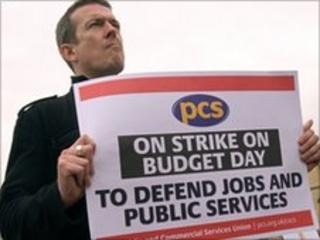 RMT union boss Bob Crow will call for a "generalised strike" to resist government spending cuts, claiming his union is "up for a fight".
Speaking at the union's annual conference later, the rail union leader will issue a "call to arms".
He will urge the entire labour movement to hold a sustained campaign of strikes across both the public and private sector.
He will also urge direct community action to defend public services.
Mr Crow, one of the most outspoken union leaders, will call for action to prevent "fiscal fascism being unleashed by this ConDem government".
His comments come as unions consider how to fight plans by the Chancellor George Osborne to cut spending by government departments by a quarter over the next few years, which they warn will lead to huge job losses.
The civil service union PCS has already called for coordinated action with other unions to resist the cuts.
The local government union Unison is also drawing up plans to oppose the measures.
Mr Crow claims the government had thrown down the biggest challenge to the trade union movement since the miners' strike of 1984.
He will tell members at the Aberdeen meeting: "The trade unions can only fight these attacks from the front foot. We have a government of millionaire public school boys who are determined to rule by fear - fear of losing your job, fear of losing your home and fear of losing your benefits and the public services that you rely on.
"RMT says don't fear them, fight them. Our trade union has a slogan, 'never on our knees', and from Aberdeen we want those words to ring out on the Millionaires Row of Clegg and Cameron.
"They started this fight with the working class and we are up for it."
Mr Crow will call on unions to form alliances with community groups , campaigns and pensioners organisations to form "the biggest show of united resistance since the anti-poll tax movement".