Police and prosecutors criticised for justice delays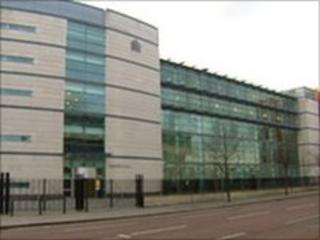 Police and prosecutors have been urged to work more closely together to reduce the amount of time it takes for cases to get through court.
A report by the Criminal Justice Inspection NI (CJINI) has said the process takes too long and undermines public confidence.
It also warns that delays could make victims of crime less likely to report it to police.
The report calls for a "shared vision of future co-operation".
Blame
BBC Northern Ireland home affairs correspondent Vincent Kearney said that there was conflict between the police and the Public Prosecution Service (PPS) with each blaming the other for problems with the systems.
Our correspondent said that prosecutors argue that they are hindered by the fact that police officers do not compile case files properly.
Police meanwhile claim that prosecutors sometimes ask for too much information and take too long to make decisions.
"The CJI report describes how both agencies can do better," our correspondent added.
"It says the quality of files submitted by the police needs to improve, and states that timescales set by the policing board are counter-productive because they encourage the submission of incomplete files to meet the targets.
"The report says the Public Prosecution Service says it takes too long to process files when they are submitted, with some left for three months before being allocated to a prosecutor to make a decision."
The CJINI first reported on avoidable delay in the criminal justice system in May 2006.
In response, a multi-agency team was established under the auspices of the Criminal Justice Board (CJB) and a strategy for improving performance was published in late 2006.
This did not bring the necessary improvements and earlier this year the CJB set out four areas for specific improvement.
Journey
The justice minister David Ford said speeding up justice was one of his top priorities.
"My objective is to improve the victims' journey through the criminal justice system and I will be monitoring the outcomes of this programme of work very closely."
Acting director of the PPS, Jim Scholes, said that many of the recommendations in the report were already being taken forward with the police.
He added: "The PPS welcomes the emphasis which the report gives to improving the quality and timeliness of police investigation files.
"We are working collaboratively with police to secure improvements in this area and to simplify reporting arrangements."
However, Mr Scholes added that any attempt to bring case processing times in Northern Ireland into line with the rest of the UK would require Assembly legislation.
Assistant chief constable Will Kerr said the police were also committed to improving the process and officers would be "tackling the volume of cases that are submitted to the formal criminal justice system in a more efficient and focused manner".