Group on boosting Scottish Parliament powers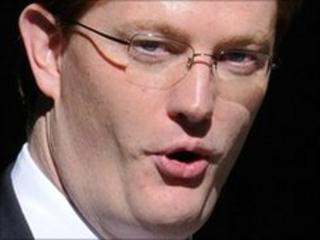 The chief secretary to the Treasury, Danny Alexander, has said there will be an implementation group on extending Scottish Parliament powers.
UK ministers have pledged to implement the recommendations of the Calman Commission review of devolution, which includes enhanced Holyrood powers.
Mr Alexander's comments came as he became the first chief secretary to give evidence to a Holyrood committee.
MSPs also pressed the minister on potential Scottish budget cuts.
But Mr Alexander said the scale of reductions would not become clear until the comprehensive spending review, in the autumn.
Government settlement
In his first Budget, Chancellor George Osborne announced a hike in VAT from 17.5% to 20%, as part of the biggest package of tax increases and spending cuts in a generation.
He said the country's deficit needed to be cut, but the Scottish government said the spending plans had jeopardised Scotland's economic recovery by going "too far, too fast".
But on the details, Mr Alexander, Lib Dem MP for Inverness, Nairn, Badenoch and Strathspey, told Holyrood's finance committee: "It's impossible with certainty now to say what the precise parameters of the Scottish government settlement will be.
"But, clearly, as we go through that process and come towards the end of it we'll have a clearer idea."