Putin hopes US spying claims 'won't harm ties'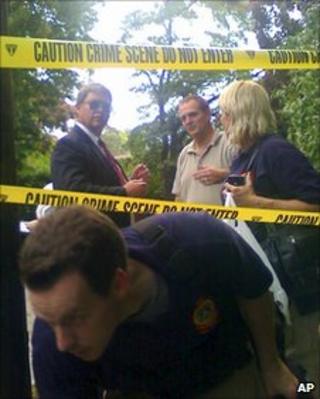 Russian Prime Minister Vladimir Putin says he hopes a series of arrests over an alleged spy ring in the US will not harm US-Russian relations.
Mr Putin told former US President Bill Clinton in Moscow that US police had "let themselves go" and were putting people in prison.
Ten people have been arrested in the US and one in Cyprus after an FBI inquiry.
The Russian foreign ministry has said the US allegations are baseless and a throwback to the Cold War.
The 10 people arrested in the US are accused of conspiracy to act as unlawful agents of a foreign government, a crime which carries up to five years in prison.
Eight also face a charge of conspiracy to launder money.
An 11th suspect, named as Christopher R Metsos, was arrested on Tuesday on the Mediterranean island of Cyprus, police there said.
They said he was arrested at Larnaca airport as he tried to leave for Budapest and was released on bail pending US extradition proceedings. He is wanted in the US on suspicion of espionage and money laundering, police said.
Mr Putin briefly mentioned the case at his country residence where he met Mr Clinton, who was in Moscow to speak at an investment conference.
"Your police have let themselves go. They are putting people to prison," he said.
"We hope that positive things achieved in recent years will be preserved. We also hope that people who value good relations understand that."
White House spokesman Robert Gibbs said on Tuesday that President Obama had known the arrests were going to happen, adding: "He was briefed a number of times."
Mr Gibbs said he did not think relations between the US and Russia would be affected.
"I think we have made a new start to working together on things like the United Nations, dealing with North Korea and Iran," he said.
"I do not think that this will affect those relations."
'Some Russian citizens'
According to US court papers, most of those arrested purported to be citizens of the US or Canada.
The Russian foreign ministry said on Tuesday that some of those detained in the US included Russian citizens, but insisted they had done nothing to hurt US interests.
A ministry statement said Moscow wanted the US to show "proper understanding" taking into account the "positive character" of US-Russian relations.
The arrests come days after a visit to Washington by Russian President Dmitry Medvedev in which ties between the former Cold War adversaries seemed warmer than ever.
He and President Obama had an informal lunch together in a burger restaurant and Mr Obama said they had "succeeded at resetting our relationship".
The 11 were allegedly part of an operation where agents posed as ordinary citizens, some living together as couples for years. In security circles such agents are known as "illegals" or "sleepers".
They were allegedly trained by the Russian Foreign Intelligence Service (SVR) to infiltrate policy-making circles and collect information, according to papers filed in the US court for the southern district of New York.
They were told to befriend US officials and send information using various methods to Russian government handlers.
US officials say the spy ring was discovered in a "multi-year investigation" by FBI agents who posed as Russian handlers.
Investigators say some of the agents had been using false identities since the early 1990s, using codes and engaging in advanced computer operations, including posting apparently innocent pictures on the internet which contained hidden text.
The FBI also reported observing older techniques, such as messages sent by invisible ink, money being buried next to a beer-bottle marker and "brush pasts" in parks, where agents swap identical bags as they pass each other.
UK passport
The UK Foreign Office said it was aware that one of the accused had allegedly travelled on a UK passport.
"We will be investigating this fully with the US. We are establishing the facts," a spokesman said.
Russian security analyst Konstantin Eggert told the BBC that the alleged spy ring hadn't appeared to have done any spying.
"They haven't managed to gather any kind of significant information or didn't have any kind of sources worth noticing," he said.
"Most stuff they transmitted, if they indeed transmitted it, could have been lifted from the New York Times website."
Five of the suspects briefly appeared in a Manhattan federal court on Monday, where a judge ordered them to remain in prison until a preliminary hearing set for 27 July.
These included a couple known as Richard Murphy and Cynthia Murphy, who were arrested in Montclair, New Jersey; Vicky Pelaez and a man known as Juan Lazaro who were arrested in Yonkers, New York state; and Anna Chapman, who was arrested in Manhattan, New York City.
Another three - Mikhail Semenko and a couple known as Michael Zottoli and Patricia Mills - appeared in a federal court in Alexandria, Virginia, after being arrested in Arlington, Virginia.
The final two people - a couple known as Donald Howard Heathfield and Tracey Lee Ann Foley - were arrested in Boston, Massachusetts, and appeared in a federal court in the city.
All the suspects except Ms Chapman and Mr Semenko have also been charged with conspiracy to commit money laundering.