Consultation plan over Sinn Fein allowances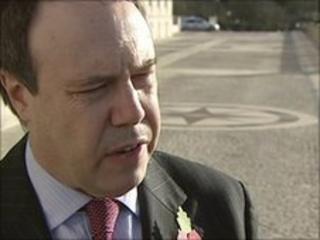 The government has said it will consult with NI parties about the continued payment of Westminster allowances to Sinn Fein.
The move comes after the DUP called on the Conservative Liberal Coalition to withdraw monies to Sinn Fein.
This was because they refuse to take their seats.
Speaking in a debate at Westminster, the Deputy Leader of the House David Heath said there was no reason why Sinn Fein should not take their seats.
He said the government was taking this subject very seriously and would talk to all the Northern Ireland parties about this issue.
Sinn Fein have always made it clear that, as Irish republicans, they will not take their seats at Westminster and will oppose any plans that would lead to their allowances being withdrawn.
Speaking during Wednesday's debate, Nigel Dodds, the North Belfast MP, said it was now an opportune moment to end payments to MPs who do not take their seats.
The DUP deputy leader also said the current system was unacceptable and it meant Sinn Fein were getting special status.
Before the election, the Tories said they would withdraw allowances from parties which did not take their seats.
Debate
However, earlier this month, the government said it was now a matter for a new independent watchdog.
Sinn Fein MPs have argued that they offer full representation despite not taking their seats.
DUP MP Ian Paisley Jnr accused the government of "washing its hands" of the issue after the Leader of the House, Sir George Young, said that it would now be dealt with by the Independent Parliamentary Standards Authority.
Ahead of the debate on Wednesday, Mr Paisley's party colleague Nigel Dodds said that Sinn Fein MPs were "raking in thousands of pounds which they are not entitled to".
"I think that this debate and our continuing activity will put the spotlight on the government to keep to its pledges that it made before the election to deal with this issue once and for all."
However, Sinn Fein MP Pat Doherty said that his party did not take its salaries and had agreed the current arrangements with a previous administration.
He added: "We negotiated the right to have offices and costs and expenses so that we can properly and thoroughly represent those who vote for us."