Final day for the Elgar £20 note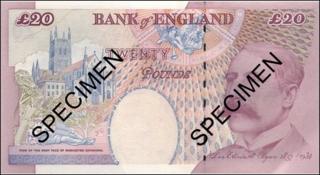 The £20 English banknote featuring the image of composer Edward Elgar will be accepted in shops for the last time on Wednesday.
Banks, building societies and post offices will only exchange the note for a newer replacement at each institution's discretion after then.
From 1 July, customers may find they can only swap it by sending it back to the Bank of England.
The alternative £20 note carries a picture of economist Adam Smith.
The Elgar £20 banknote, first issued in June 1999, has gradually been replaced by the Adam Smith note since March 2007.
Variations
The look of banknotes is sometimes changed by the Bank of England, partly to beat counterfeiters.
In 1993, William Shakespeare's image disappeared from the face of the £20 note.
Elgar's image appears on the banknote along with a picture of Worcester Cathedral, the scene of the first performance of one of his best-known works - the Enigma Variations.
His disappearance was branded as a "disgrace" by Jeremy Dibble, professor in the Department of Music at Durham University.
"Land Of Hope And Glory is one of the most stirring tunes ever composed and its composer, Edward Elgar, is an iconic figure and a fitting symbol of artistic inspiration in England," he said.
"Dropping Elgar tells us much about the way in which the arts is now viewed in England.
"The removal of writing and music in the shape of Shakespeare and Elgar on Bank of England notes makes our currency much less colourful. Science and economics are important but so too are the arts."
No penalty
There is no formal penalty for any bank that continues to use Elgar notes in their cash machines, although the Bank of England argues that they would suffer a loss of reputation among customers.
Until 1990, withdrawn notes - including those too damaged to use - were incinerated. But now, they are shredded before going to an industrial incinerator - or even being mixed with compost.
The new £20 note features father of modern economics Adam Smith. He joins social reformer Elizabeth Fry, whose image is on the £5 note, naturalist Charles Darwin, who features on the £10, and first governor of the Bank of England Sir John Houblon, who is on the £50 note.
Scottish banknotes feature various famous Scots, such as poet Robert Burns and biologist Sir Alexander Fleming.