T in the Park bans vuvuzela horns from festival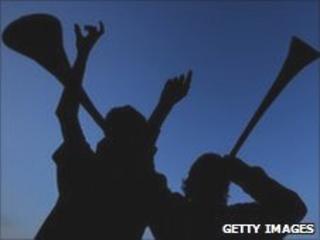 Festival-goers have been told not to take vuvuzelas to T in the Park in case they upset the musicians.
The South African plastic horn, which has caused controversy during the world cup, will be banned at this year's festival, which runs from 9 to 11 July.
Organisers said the constant buzz of the instrument could put off artists at Scotland's biggest music festival.
Acts this year include rapper Eminem and rock bands Muse and Kasabian.
The event is being held at Balado in Perth and Kinross and an 85,000-strong crowd is expected over the weekend.
Fans will not be allowed to bring vuvuzelas to the festival and there will be a ban on selling them on site.
Respect artists
Organisers DF Concerts said the decision was in line with their current ban on air horns.
A spokesman for DF Concerts said: "As T in the Park is a music festival and whilst there is always a fantastic party atmosphere we have also got to respect the artists and the thousands of fans who want to hear their music without being disturbed by noises such as vuvuzelas in the crowd."
Earlier this month organisers launched their a manifesto to encourage responsible behaviour at the festival.
A new yellow hand logo will represent the five points in the Citizen T manifesto, which states: "We pledge allegiance to T in the Park and believe in being good citizens."
An MSP has already called for vuvuzelas, which can reach 130 decibels, to be banned at Scottish football grounds.
Lothians MSP Margo MacDonald told the Scottish Premier League the craze for using the horns at World Cup games should not be allowed to spread to Scots stadiums.