'School phobic' pupil unit opens in Newtown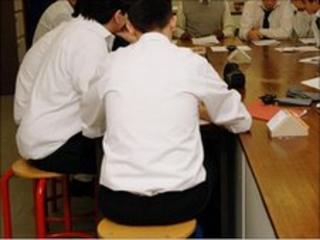 A £340,000 education centre for children who have a phobia about schools or who have been excluded has opened in Powys.
The Pathway Education Centre, in Newtown, will cater for pupils in north Powys who are not in mainstream education.
Powys council said it would help those who were permanently or at risk of being excluded from school.
Those who are "school phobic" and have medical needs will also be educated.
The centre is based in a building known locally as the Old College.
Councillor David Jones, who is responsible for schools, said: "I'm delighted that this new facility will help re-engage pupils into positive and productive education and, where appropriate, their re-integration back into mainstream education."
The council said the centre would provide "an education basis for those pupils permanently excluded or at risk of being permanently excluded from mainstream education, youngsters who are school phobic, and youngsters that have medical needs which prevents them attending school".