Locum doctors 'putting patients at risk'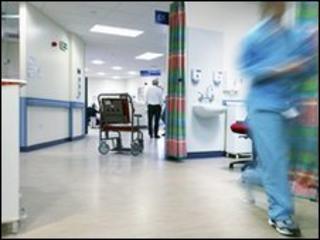 A lack of control over the quality of locum doctors is putting patient safety at risk, a senior clinician has warned.
Prof Chris Isles from Dumfries and Galloway Royal Infirmary said he had been offered "inappropriate" locums while trying to fill staff rotas.
Writing in the British Medical Journal (BMJ), he also said there was a lack of regulation governing the agencies used to book temporary doctors.
His comments come after a German locum was struck off after killing a patient.
Dr Daniel Ubani administered 10-times the recommended dose of painkillers during a house call in February 2008.
He had flown into the UK from Germany and injected 70-year-old David Gray, of of Manea, Cambridgeshire, with 100mg of a pain relief drug.
He was struck off earlier this month after being found guilty of making "recurrent mistakes".
Prof Isles wrote in the BMJ: "A huge amount of time has been wasted attempting to book doctors with little experience of working in the UK, whose competencies I have been unable to assess, who did not always have the right paperwork, and who could break an agreement at will and without repercussion."
Detailing one occasion when he had employed a locum, referred to as "Dr G", Prof Isles said: "There were no complaints during the first two nights on call, but during the third night the doctor was discovered asleep on a chair in the doctors' mess.
"The doctor with whom the locum was on call asked for help with a difficult patient during the night but was told that the locum was 'too tired' to assist."
Demand for agency locum doctors has increased following the implementation of the European Working Time Directive for doctors.
The BMJ said in a recent report by the public sector watchdog Audit Scotland, the NHS in Scotland spent £47m on locum doctors in 2008-9.
That accounted for 4.3% of overall medical staffing expenditure, with £27m of this spent on agency locums.
'Scandalous state'
Prof Isles was highly critical of such agencies.
He said: "Most of all I rage at the locum agencies whose abject failure to regulate themselves should surely have led to intervention by the GMC by now.
"We pay lip service to patient safety by allowing this scandalous state of affairs to continue."
Niall Dickson, chief executive at the General Medical Council, said: "This disturbing account highlights both the continuing shortage of doctors in some parts of the country and the apparent failure of some agencies and doctors to provide reliable information about their skills and competence.
"Locums provide a valuable service but they need to be supported with good induction - all doctors are vulnerable in unfamiliar settings.
"These case studies highlight the difficult position faced by hospitals trying to ensure adequate cover, but it also shows precious time is being wasted when they are not provided with accurate information on which to base a decision."