Maldives cabinet stages mass resignation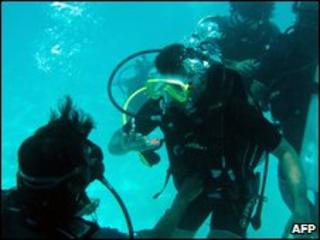 The cabinet of the Maldives has staged a mass resignation after the parliament of the Indian Ocean country repeatedly moved to block the government's work.
President Mohamed Nasheed, who was elected in 2008, is not affected by the resignations.
But a source in his government told the BBC that the opposition MPs were trying to give parliament the right to veto government plans.
He said these included key privatisations and loan law changes.
The source said this was unconstitutional.
The foreign minister accused the opposition of conducting a "scorched earth policy".
The opposition bloc, which includes the parties of the former President Maumoon Abdul Gayoom and his brother, is usually able to command a majority in the 77-seat Majlis, or parliament.
"The cabinet was fed up," an official told the AFP news agency.
"They could not make any headway with the parliament which was out to block them at every step of the way. They threatened to bring no-confidence motions against every minister."
Correspondents say that the popularity of President Nasheed has waned recently as he has struggled to deliver the political and economic reforms he promised in his election campaign in the face of determined parliamentary resistance.
A senior opposition MP has alleged that a plan to privatise the airport would allow Israel to use the Maldives for aerial bombing of Arab countries.
President Nasheed, a former political prisoner, was elected after 30 years of autocratic rule by Mr Gayoom.
He is now without a government and it is not clear when this deadlock between the executive and the legislative will be broken.