Twelve rescued from sea off Bournemouth in one day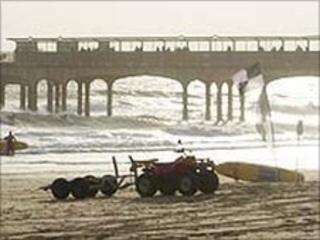 Lifeguards rescued 12 people from the sea in one day at a Dorset beach resort.
The RNLI said three of the people plucked from the water on Sunday could have drowned had they not received help.
One lifeguard who joined the Bournemouth team at 1800 BST rescued four people within half an hour.
The RNLI supervisor said the majority of rescues were a result of weak swimmers drifting out of their depth.
Extended patrols
Lifeguard Andy Reakes was bringing one swimmer back to shore, shortly after 1800 BST, when he noticed another man struggling and going under the water.
He rushed back to the 33-year-old who, once ashore, was advised to go to hospital for a check-up.
Soon afterwards Mr Reakes and supervisor Ed Stevens rescued two men in their 30s, one of whom could not swim, after they let go of a bodyboard they were playing with and began to sink.
The men were given oxygen before being taken to hospital by paramedics.
The beach patrols, which usually end at 1800 BST, were extended for an extra hour to keep an eye on beachgoers making the most of the warm weather.
Mr Stevens said: "If the RNLI lifeguards hadn't been there for the last hour, the three males they saved were in danger of drowning without their help.
"We'd advise anyone who is not a confident or strong swimmer to stay in waist depth water, and to seek the advice of the lifeguards before entering the water."
Earlier in the day two men who had been drinking had to be helped to shore after jumping from Bournemouth pier.
Another group of four male swimmers were rescued by the lifeguard patrol boat after they got into difficulty.