Dye to combat Poole Park Lake's weed problem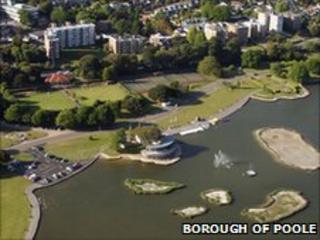 A Dorset council has added a dye to a lake after a build up of algae and weeds disrupted its boating activity.
The Borough of Poole has added the vegetable-based dye to Poole Park Lake after it tested positive for low levels of green algae on the water's surface.
The dye will restrict the amount of sun reaching the under-water tassleweeds in an attempt to slow its growth.
The council said the dye, which will dilute over time, posed no risk to human health or the environment.
Twelve tonnes of tasselweed were removed from the salt water lake earlier this year but it had spread to other areas.
The council said the rapid growth of the tassleweed was believed to have been caused by hot weather while the algae was believed to have been caused by "a combination of hot weather and high nutrient levels" in the water.
Councillor Peter Adams said: "We will monitor the success of this treatment and continue to work closely with conservation experts until these issues are fully resolved."