Legal review of tobacco bans under way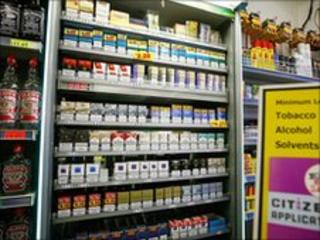 A tobacco giant has called on a judge to set aside Scottish parliament plans to ban the open display of cigarettes in shops.
The call by Imperial Tobacco came at the start of a judicial review at the Court of Session of measures passed by the parliament in January.
Imperial is also trying to stop a ban on vending machines selling cigarettes.
The firm told the court the provisions were outside the legislative competency of Holyrood and were not law.
Imperial argued the measures, contained in the Tobacco and Primary Medical Services (Scotland) Act, related to matters reserved to the Westminster parliament under consumer protection provisions.
It also claimed the relevant sections modified a rule of Scottish criminal law which was "special to a reserved matter" and that it would alter freedom of trade provisions in the 1707 Act of Union between Scotland and England.
Imperial's action is being contested by Scotland's senior law officer, the Lord Advocate Elish Angiolini, who maintained the firm was not entitled to the orders it sought.
Junior counsel for Imperial Tobacco, Brian Gill, told the court the company did not accept "the various assertions made and opinions expressed about smoking and health either by the Scottish government or members of the Scottish parliament" during the passage of the Bill, or by the Lord Advocate.
'Drastic ban'
Mr Gill said: "The effect of Section 1 (of the Act) is to criminalise the display of tobacco products or smoking-related products which is a currently lawful display. What is created is a wholly new offence in Scottish criminal law."
He said it amounted to "a drastic outright ban".
He also argued the provision over cigarette vending machines also created a criminal offence.
"The Scottish Parliament has taken a deliberate legislative decision to create these new offences," he said.
The Scottish government has announced the display ban would come into effect for larger retailers next year and for smaller shops in 2013.
The Lord Advocate said the introduction of the bill was "part of a government programme to improve Scottish public health by reducing smoking".
She said smoking was estimated to be responsible for 13,500 deaths each year and many more hospital admissions.
Ms Angiolini maintained the sections of the legislation containing the bans did not relate to a reserved matter and were within the legislative competency of the Scottish parliament.
The hearing continues. The judge, Lord Bracadale, is expected to give a decision at a later date.