Caernarfon town councillor Bob Anderson dies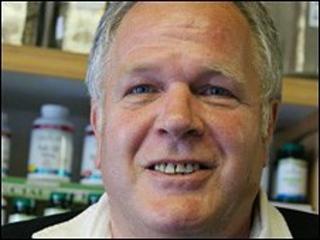 Tributes have been paid after the sudden death of Bob Anderson, a Gwynedd county and Caernarfon town councillor.
Mr Anderson, an independent who represented the Seiont ward, was also well known through the Just Natural health food shop he ran in the town.
Caernarfon mayor Huw Edwards said Mr Anderson's death was a huge loss to the town.
Gwynedd council chairman Tudor Owen said Mr Anderson was deeply committed to working for his community.
Mr Edwards added: "He was always modest but firm in his conviction about any decisions within the council.
"His passing will be a huge loss to us as a council certainly, but more for his family," he said.
"Bob was a constant worker for the town of Caernarfon and his loss will be felt within events in the town centre," he added.
Mr Owen said Mr Anderson had "worked tirelessly for his community and was deeply committed to the work of improving and raising the profile of Caernarfon."
"He will be deeply missed by councillors and officers across Gwynedd council and our thoughts are with his family and friends at this very difficult time," he added.