Funeral for Glasgow asylum suicide family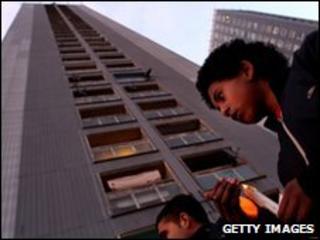 A funeral service has been held for a family of Russian asylum seekers who jumped to their deaths from a tower block in Glasgow.
Serguei Serykh, 43, his wife Tatiana, and Mr Serykh's stepson, Stepan, 19, died after falling 15 floors at the Red Road flats in Springburn on 7 March.
A service for the family was held at Daldowie Crematorium, near Uddingston, South Lanarkshire, on Tuesday.
Arrangements will now be made to return their ashes to family in Moscow.
The family first arrived in the UK in 2007 and had been living at the tower block at 63 Petershill Drive, which was let to the YMCA, since 2 February this year.
Their application to remain in the UK had been refused and they had been told they had to leave their flat in Springburn.
The family had not, however, been issued with a removal order at the time of their deaths.
The tragedy prompted the charity Positive Action in Housing to write to the Lord Advocate, Elish Angiolini, calling for a fatal accident inquiry to be held.
Director Robina Qureshi, who attended the service on Tuesday, said: "It's been over four months since the Serykh family died, at least now their family in Moscow can get the ashes of their loved ones and grieve properly.
"We are still calling on the Lord Advocate to hold a fatal accident inquiry.
"The Serykhs killed themselves on the day they were going to be destitute. They had nowhere else to go as they had also been told by the YMCA to leave on that day.
"To them it must have seemed like they had run out of options. We believe the UK asylum policy had a part to play in the deaths of the Serykhs and a fatal accident inquiry can ascertain exactly what led to the deaths of a family of three."