Derbyshire murderer who plotted shooting lived in chaos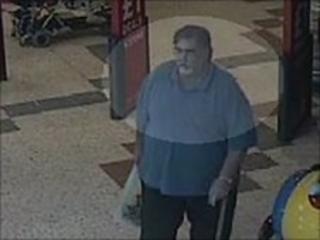 A man who meticulously planned the murder of a cab driver by luring him to a railway station lived in a chaotic house with bottles of stored urine, police discovered.
Colin Cheetham, 61, from Ripley, in Derbyshire, had carefully studied train timetables and stations to find the perfect murder site before the shooting on 17 September.
He then called a cab firm and shot father-of-three Stuart Ludlam, 43, at Cromford station. Mr Ludlam was found in the boot of his car and had been shot through the head.
Cheetham was found guilty of murder after a trial at Nottingham Crown Court and jailed for a minimum of 30 years.
Police tracked him down by tracing the mobile phone that he used to call the cab. He had bought the phone a month earlier.
Cheetham, who was a member of a gun club and owned a number of weapons, admitted his phone was used for the call and the fatal shot came from one of his guns, but told officers he was not responsible.
He claimed two men called Stan and Geoff, who he had met in a pub, pressured him to loan the weapon out.
But regulars at the Old Oak in Horsley Woodhouse did not back his story.
Keith Girling said: "Nobody round here has heard of them - all the people we have spoken to in the pub, nobody has heard of Stan or this Geoff."
He added: "He [Cheetham] used to sit and read magazines about cameras and guns and various things.
"He seemed a bit of a loner to most of us but was an amicable guy and we were surprised when all this came up."
When police searched Cheetham's house they found it in a chaotic condition, with parts so untidy that Cheetham and his wife, a virtual recluse, were sleeping downstairs.
They also discovered a large amount of urine, stored in drinks bottles, along with a collection of photographs of Derbyshire railways stations.
He claimed to be planning a calendar but police believed it was reconnaissance for the murder.
Officers said the killing had no obvious motive, a randomness which made it all the harder for Tracey Shelton, owner of MJ's, the firm for which Stuart Ludlam worked.
"It could have been anybody. If he hadn't have phoned us he would have phoned another company.
"But that day if I hadn't been at a funeral, I would have taken that booking and I would have sent my husband down," she said.
Mr Ludlam's mother, Sheila Ludlam, said the family had been devastated.
"Three children for him and three grandchildren for me and he loved them with all his heart.
"All he wanted was a little girl - he got his little girl but of course she hasn't got a daddy any more."