Attack accused footballer was 'defending father'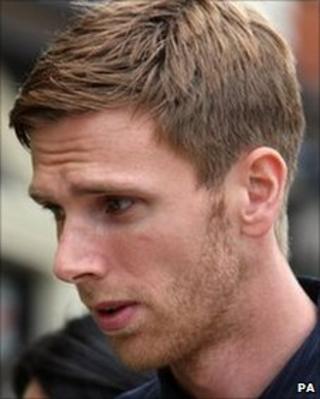 A footballer who attacked his pregnant sister was trying to protect his father, a court has heard.
Former West Ham player Calum Davenport is accused of attacking his sister Cara after she fell pregnant again by a different man, Luton Crown Court heard.
Mr Davenport called the mother-of-one a "form of cancer" in a row over how she was going to support the child, the court was told.
Mr Davenport denies causing actual bodily harm to Miss Davenport.
The court was told Mr Davenport, of Greenfields, Bedford, headbutted his 28-year-old sister five or six times before biting her cheek during the attack at her home in Collie Road, Bedford, in the early hours of 22 August last year.
Heads collided
Mr Davenport said he was acting in self-defence and had stepped in after his sister, who was seven weeks pregnant, started punching his father Curtis.
He told police he had drunk eight pints of lager over six hours following a golf competition before going with his father to his sister's home.
They drank tea before an argument began over how she was going to pay for her second child.
The court heard Mr Davenport told officers: "My dad put the question to her, 'Are you sure this is what you want because this is it?'
"As he said that to her she went for my dad and started hitting him around the face. That's why I got in between and grabbed her wrists.
"We fell over and smashed heads. She was going mental at this point and I put my head to her head and we collided heads on two or three occasions.
"I did see my sister had bruises to her face which I apologise for."
Paid rent
Pc Vito Napoli told the court Miss Davenport had claimed in a statement following the incident that her brother had racially abused her, something she later denied in court.
She said that when Mr Davenport and his father arrived at her house demanding a beer, a row erupted over how she was going to pay for her second child.
The court heard the former England under-21 footballer regularly paid for her four-year-old son Calum Junior's clothes, holidays and also helped her with rent.
Miss Davenport said she went to push her father away from the house, but her brother intervened, bundling her back into the house against the stairs.
After repeatedly head-butting her, he grabbed her by the hair and battered her head against a wall as her son shouted "get off my mummy, get off my mummy", the court heard.
The case continues.