'Potential error' delays GDP data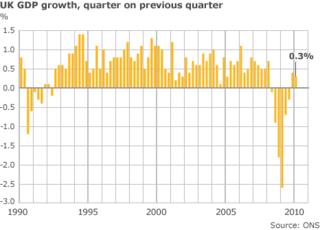 A "potential error" has forced the Office for National Statistics (ONS) to delay the publication of the latest GDP figures, due on Wednesday.
The very rare move was caused by concerns over the reliability of some of the figures, the ONS said.
It was due to publish the latest revision to the GDP data covering the period between January and March.
The figure is closely watched by economists as an indication of the state of the economy.
The quarterly GDP figures are revised twice at monthly intervals after their initial release.
The latest data was due for publication at 0930 BST. It will now be released on 12 July.
The potential problems were uncovered as part of the annual revision of the national accounts - a much larger and complex process to the review of the most recent GDP data.
ONS statisticians will have been reviewing economic data going back to at least 2007.
"It is important to ensure the national accounts are right, rather than disseminate statistics that might be subject to question over their quality," said ONS director general Stephen Penneck.
"We are really sorry that we have had to do this and apologise for the inconvenience. We wil learn from this to prevent it happening again."
The first set of figures showed the economy grew by 0.2% in the first quarter. This was later revised up to 0.3%. Economists are expecting this figure to be unchanged.