Fraud suspects told to pay £115m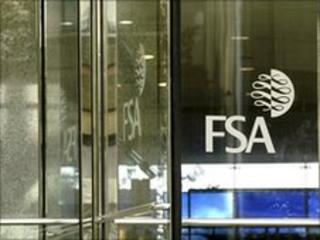 Three men accused of running what is alleged to be the UK's largest Ponzi scheme have been ordered to pay £115m to the financial regulator.
The Financial Services Authority (FSA) said it hoped to return any money it retrieves to investors.
However, it said those who had lost money were unlikely to be repaid.
John Anderson, Kautilya Nandan Pruthi and Kenneth Peacock were arrested last year on suspicion of conspiracy to defraud, and money laundering.
They are also being investigated over alleged fraud by misrepresentation.
In a High Court hearing, the three men were found to have taken deposits from investors without authorisation from the FSA.
The £115m includes all profit they made from their unauthorised financial activities and all losses suffered by investors.
"Huge losses were caused to investors and significant profits were made," Mr Justice Vos said.
The ruling follows another High Court judgement on 25 March that ordered Mr Pruthi to pay £89.8m, Mr Anderson £13.2m and Mr Peacock £11.7m.
'Unsustainable'
City of London police are still investigating the scheme in which hundreds of investors, including sports stars and celebrities, collectively invested £84m in Knightsbridge-based Business Consulting International.
They claimed it was the UK's biggest suspected Ponzi scheme, in which new investors' cash was used to pay out returns to previous subscribers.
Participation was by invitation only and the company offered investors returns of up to 20% a month. It said it would lend money to distressed companies that needed short-term cash and were willing to pay high interest rates on it.
In the latest hearing, the judge said there was no evidence that Mr Pruthi, who ran Business Consulting International, made sufficient loans to businesses to fund the high interest rates he was offering.
The rates of return offered were "simply uncommercial and unsustainable", Mr Justice Vos said.
Mr Pruthi ran into cashflow problems and was unable to pay his investors what he owed them.
The FSA intervened in November 2008 to stop the company's activities.
Mr Pruthi, Mr Anderson and Mr Peacock have argued that they always intended to pay the money they owed to their investors.
The City of London police investigation continues. None of the three men has been charged with any criminal offences.