Iraq army general dies as bombings kill eight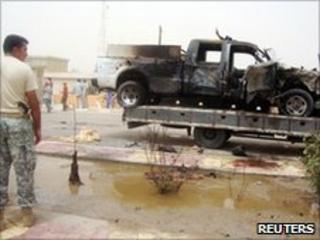 Eight people have been killed, including four policemen and an Iraqi general, in a series of attacks around the country, Iraqi officials say.
The policemen were killed when a car bomb detonated next to a patrol in the town of Beiji, north of Baghdad.
A civilian in a nearby vehicle was also killed and seven others were wounded.
Separately, an Iraqi brigadier general was killed when a bomb attached to his car exploded in Kadhamiya, a mainly Shia district in northern Baghdad.
And in another Shia district, Hurriya, an official with the Baghdad provincial council died when a bomb attached to his vehicle went off as drove through a security checkpoint, the council said in a press release.
In a second incident in Beiji on Tuesday, gunmen opened fire on an oil tanker, killing its driver.
Overall violence has dropped across the country, but militants have launched a string of attacks in recent weeks.
They include two high-profile attacks on Iraq's central bank and the Trade Bank of Iraq, which handles much of the government's foreign exchange transactions and dealings with investors.