Berlusconi attacker ruled unfit for trial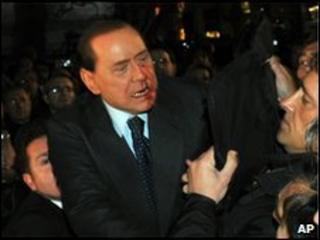 The man who hit Italian Prime Minister Silvio Berlusconi in the face with a model of Milan cathedral has been ruled unfit to stand trial.
Judge Luisa Savoia ruled that Massimo Tartaglia was not aware of his actions at the time of the attack.
He was ordered to remain under observation for another year in a psychiatric hospital.
The attack in Milan on 13 December last year left Mr Berlusconi, 73, with a broken nose and two broken teeth.
Mr Tartaglia, a 42-year-old bricklayer, has a background of psychological problems.
He attacked Mr Berlusconi in central Milan following a political rally at which the Italian leader had been speaking.
As Mr Berlusconi was signing autographs he hurled a replica of Milan's cathedral at the prime minister's face.
Before being driven away, Mr Berlusconi climbed up on his chauffeur-driven car to try to show the crowd that he was all right.
Shortly afterwards, Mr Tartaglia was charged with aggravated assault.
Mr Berlusconi spent four days in hospital and returned to public duties after a month.