Cardiac imaging developed in Leicester 'may save lives'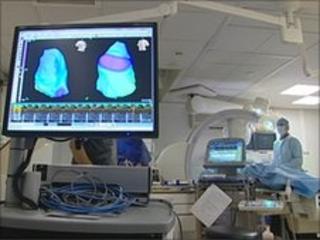 Doctors in Leicester hope electrical imaging will help them predict which patients who survived a heart attack are at risk of sudden cardiac death.
Electrical maps of the heart will be used in conjunction with MRI scans.
The hope is to work out who will benefit from having a defibrillator implanted, which can re-shock the heart if arrhythmia occurs.
Dr Andre Ng, a consultant cardiologist at Glenfield Hospital, said irregular rhythm problems could happen suddenly.
Dr Ng, who is also a senior lecturer in Cardiovascular Sciences at the University of Leicester said: "One of the problems with dangerous heart rhythms like ventricular fibrillation is that it is sudden and unpredictable.
"Even in very highly selected patients, about 10 to 15% of the patients require a shock each year."
The work, combining an electrical and anatomical map of the heart, has already won a prestigious Da Vinci award.
Three million people a year die worldwide from sudden cardiac death, but in most cases there is no warning and the heart is stopped by a sudden arrhythmia.
A trial involving 160 patients is currently under way in the East Midlands.
Kath Mellors, from Condor in Derbyshire, has had an implantable cardioverter defibrillator (ICDs) fitted.
She said: "Apparently I could have just died, if I hadn't been in hospital, because you just can't get your breath, and, as the specialist said to me, it's going to be like my guardian angel."