Royal Logistic Corps is given freedom of Malmesbury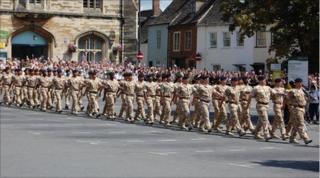 Some 200 members of 9 Regiment Royal Logistic Corps have marched through Malmesbury and received the freedom of the town.
The regiment is based at Buckley Barracks, about three miles south of the town, and has recently returned from Afghanistan.
After the march the soldiers attended a service of remembrance to fallen comrades at Malmesbury Abbey.
"This is the least we could do," said Malmesbury councillor Catherine Doody.
She added: "It's about showing our respect and our thanks to those guys that go out there, work for us, and make sure that the others out there are safe."