Will a new customs union hurt Russia's WTO bid?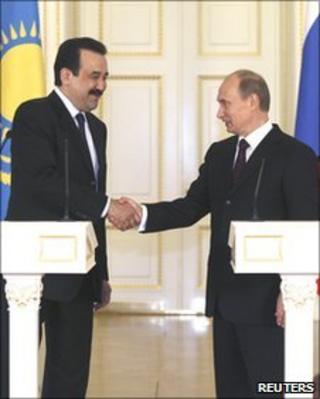 Russia and Kazakhstan are effectively launching a customs union on 1 July, while Belarus, its expected third member, is yet to ratify the key customs code.
There have been concerns that creation of the union could further delay attempts by Russia, by far the largest economy outside the World Trade Organization (WTO), to join the WTO.
Russia has been unsuccessfully trying to become a WTO member since the mid-90s. This has led to state hi-tech corporation Rosnano chief executive, and former government minister, Anatoly Chubais exclaiming that Russia had become the "world champions" in taking the longest time to enter the WTO.
"We have amazed everybody," he told St Petersburg International Economic Forum last month.
However, those who advocate creation of the customs union often say that it is a natural process of reconnecting production chains broken when the Soviet Union ceased to exist.
Reluctant partners
Russia and Kazakhstan have said that they were ready to create the union "on a bilateral basis", hoping that the question of Belarus's involvement could be clarified at a summit in Kazakhstan next week.
The aim is to create a single market of some 170 million people, eventually boosting trade and investment between the three former Soviet republics.
However, Minsk has been refusing to ratify the customs code, insisting that first Russia should drop its export duty on oil and oil products for its union partners.
The latest gas conflict between Russia and Belarus was seen by Moscow's opponents as an attempt to bully Minsk into joining the customs union on Russia's terms.
Like in all other gas disputes with its neighbours, Russia insisted that the conflict had purely financial roots.
Longer process
Aleksei Portansky, an expert at the trade policy institute of Moscow's Higher School of Economics, believes that it is a good idea to create such a union.
"But it should be built gradually, not at a stepped-up pace, and the developments of the last year [including disputes between the union's partners] have proved it," he told the BBC.
He noted that it had taken the European Union three decades to create its own customs union, which helped avoid tensions similar to those between Russia and Belarus.
In turn, Anders Aslund, a senior fellow at the Peter G. Peterson Institute for International Economics, does not believe there are any real economic benefits in the customs union for Russia.
He told the BBC that some top Russian officials, including Prime Minister Vladimir Putin, have been "pushing to create the customs union in order to avoid joining the WTO".
Immediately after Russia's war with Georgia in August 2008, Mr Putin said that Moscow did not see "any advantages from [WTO] membership, if they exist at all".
In June 2009, he said that Russia, Kazakhstan and Belarus wanted to join the WTO as a single customs zone, effectively suspending Russia's own WTO membership talks.
Later Moscow returned to the idea of joining on its own, while saying it would synchronise its position with the other customs union's members.
Also, earlier this year Mr Putin told US Secretary of State Hillary Clinton that Russia should be allowed to become a WTO member in order to fully cooperate with the US.
'EU's model'
Creation of the customs union has caused some uneasiness in the US and in the EU, Russian main trading partner.
Catherine Ashton, the European Union's foreign policy chief, said last month: "We have no issues with customs unions in general... but we are concerned when those that hinder trade rather than promoting it."
"That appears to be the case with the proposed customs union," she added.
Russian First Deputy Prime Minister Igor Shuvalov replied: "There is no contradiction between WTO rules and the founding documents of the customs union."
"We took the EU's economic model and adopted it for modern reality and capacity of the three states."
Mr Portansky agrees that WTO rules do not prohibit creation of the customs union.
He noted, however, that before 2008 the three states were talking about creating such a union only after separately joining the WTO.
In that case, the union would not worry the EU and US too much, as the three countries' markets would have been already liberalised in accordance with the WTO's rules.
The way things are now suggests that Russia, Kazakhstan and Belarus could have a longer way to go to make the customs union work and convince the WTO they are ready to be let into the organisation.