Conservationists hail arrival of India vulture chicks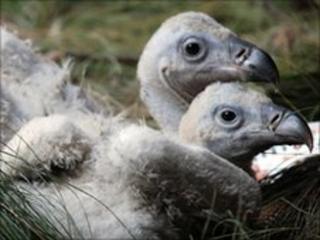 Three species of rare vultures in India have been successfully bred in captivity, conservationists say.
Most of the birds were reared in the Indian state of Haryana, but also in the state of West Bengal.
Among the 10 chicks that have fledged this year are four oriental white-backed vultures.
Experts say this species - once found all over India - has been declining at a "rate quicker than the dodo before it became extinct".
Population crash
The birds have been bred by a partnership of British and Indian conservation groups including BirdLife International, Bombay Natural History Society, Royal Society for the Protection of Birds (RSPB), UK International Centre for Birds of Prey (ICBP), and the Zoological Society of London (ZSL).
"This exciting news provides some long-term hope for these three critically endangered species, especially as the ultimate aspiration will be to return birds to the wild," an RSPB statement said.
Conservationists say that South Asia's vulture population has in recent years undergone a drastic population crash.
It used to number tens of millions, but now the combined population of all three species is believed to be well below 60,000 birds.
"But with the population of at least one species almost halving each year, the success of captive breeding may be the only hope that these magnificent birds will be saved from oblivion," the RSPB statement said.
'Terrifying'
Conservationists say four out of the five major vulture species in India are critically endangered because vultures have been badly affected by the use of the painkiller diclofenac in cattle.
Vultures feeding on the cattle will either die of acute kidney failure within a few days or lose their ability to reproduce.
"The crisis facing vultures is one of the worst in the natural world," said RSPB spokesman Chris Bowden.
"Since the decline of these birds was first noticed, the speed at which they have gone is terrifying - especially because they played such an important role in cleaning up carcasses and the environment.
"Although we may never again witness the sheer abundance of vultures across southern Asia, the latest news provides hope that we may, at least, be able to prevent their total extinction."