More Scottish pupils taking school dinners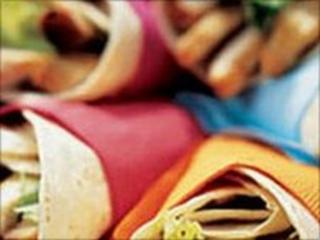 Less than half of all pupils in Scotland are eating school dinners, despite a rise in the latest figures.
A study found that 50.4% of primary pupils ate a school meal - the highest figure in the last decade.
The Scottish government figures suggested that 39.6% of secondary pupils had a school meal, a slight rise on the previous year.
Overall, 46.1% of pupils across schools in Scotland ate school dinners, up by 1% on 2009.
However, that was the year which saw the lowest figure in the last decade.
The statistics also showed that 118,963 pupils (17.8%) were registered for free school meals - an increase of 16.7% on the numbers for last year.
Innovative practices
The increase is due, in part, to some local authorities offering free school meals regardless of family income.
Children's Minister Adam Ingram acknowledged that more needed to be done to boost intake among teenagers.
Speaking during a visit to Loch Leven community campus in Perth and Kinross, where uptake had increased from 27.1% in 2009 to 68.3%, Mr Ingram called for schools to employ "innovative ways" to encourage pupils to eat school meals.
He said: "I am encouraged by today's improvements which show that the nutritional improvements introduced in schools are starting to bed in.
"Areas such as Perth and Kinross, Dundee and Clackmannanshire have done particularly well but I want other local authorities to learn from their achievements.
"That's why I'm writing to everyone involved in school meal provision to highlight innovative practices."