Storm hits electricity supplies in Anglesey and Gwynedd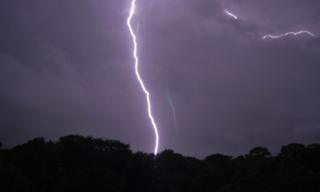 An electrical storm caused power failure in thousands of homes across north Wales on Tuesday.
Many residents were woken by thunder at about 0200 BST.
A Scottish Power spokesperson said 2,000-3,000 homes remained without power in north Wales, and everything was being done to reconnect them as soon as possible.
BT said about 100 customers had been cut off and warned some might be a 'few days' before they were reconnected.
An incident which lead to traffic diversions on the High Street in Llangefni on Tuesday afternoon is also thought to be related to the weather, when a manhold cover was blown off outside the HSBC bank.
North Wales Police said no-one was injured in the incident and there was "smoke but no fire".
Scottish Power engineers were on the way to investigate.
A BT spokesman said engineers were out in Anglesey and Gwynedd.
"It might be that individual lines were hit by lightening, but it might also have affected some of the exchanges, and engineers are basically out there trying to fix the faults," he added.
North Wales Fire and Rescue Service said they had not been called to deal with any weather-related incident.
Firefighters had to brave the storm to tackle a gorse fire covering 2,000 sq m near Llandudno.
The blaze on Cwm mountain had reignited after it was put out earlier in the day.