Could cuts halt school buildings transformation?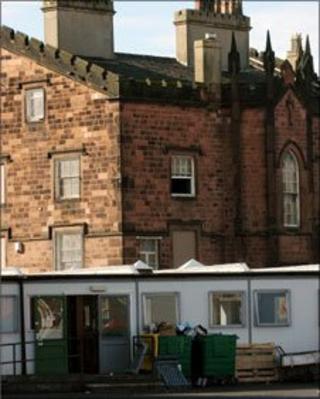 With cuts to England's national school building programme feared, BBC News education reporter Hannah Richardson hears the concerns over one area in the North West.
The transformation of schools such as Liverpool's Alsop High is exactly what the Building Schools for the Future programme has been about.
For the past eight years, hundreds of pupils have regularly had lessons in rows of temporary buildings - some of them two storeys high.
As the school prepares to reopen in July, after an £18 million rebuild, there are not only classrooms for everyone, but state of the art, flexible hi-tech facilities with retractable walls.
But hanging in the balance, is the planned redevelopment of a further 26 out-dated Liverpool secondary schools that are no longer suitable for today's teaching methods.
And this same uncertainty is shared by staff and pupils in almost 1,100 schools across England who have signed up for the BSF programme.
Within weeks of taking office, Education Secretary Michael Gove announced a review of the £55bn school building scheme.
This was not unexpected in the current financial climate and Mr Gove argued it was about ensuring the scheme was efficient, delivering value for money and focusing resources on areas most in need.
However, the review's scope and depth has never been clear.
'Plug pulled?'
Predictions range from schemes being scaled back, to the plug being pulled on whole projects, with funds being diverted to the government's free schools scheme, which would allow parents' groups, charities and other bodies to set up schools with government funding.
Liverpool received approval for its plans to refurbish or rebuild all its secondary schools by 2017 from the former Labour government in March this year.
The Department for Education will not be drawn on any BSF scheme and will only say it is reviewing the programme and will report in due course.
But as no legally binding contracts have been signed in Liverpool, the planned projects are potentially at risk.
Liverpool City Council says cuts to this "once in a generation opportunity" would have a huge and detrimental impact on the city.
Its cabinet member for education and children's services, Councillor Jane Corbett, says the scheme is about far more than bricks and mortar.
The council has not only spent £4m on preparatory work, but has planned the reorganisation of its secondary education system on the expectation of £350m from BSF.
"We have been working flat out for the reorganisation of all the schools in the city for the past four years to get a strong provision across the city," she says.
"We have made a huge effort and investment in education, and it's reaching every school and every child."
Attainment in the area's schools is improving at four times the national rate, she says.
Economic impact
She continues: "It's not just about providing a standard education, if you like, it's about transforming education.
"It's new ways of learning that will make sense in the 21st Century. It's about actually empowering pupils and giving more freedom to teaching staff.
"We've been looking closely at links to business and the economic impact and it's part of the whole regeneration of the city."
Unlike piecemeal free schools projects, she says, it is a whole city approach.
The plans include two science schools, tied to more than 40 local businesses, and one school with a multi-million sports arena and a theatre with retractable seating.
So what will happen if the scheme doesn't go ahead?
"It will be desperate - we will have to start reforming it all over again," says Cllr Corbett.
With Liverpool the most disadvantaged local authority in the country, education and training is a high priority.
In the Everton area that Cllr Corbet represents, levels of unemployment reach 44%.
"We can't let down our young people, many of whom have been involved in the whole ideas process for these schemes.
"It's crucial for them to know that they're valued.
"Liverpool is a community that brings positives out of negatives - it does it every day of its life - it will be very, very difficult to do that.
"But we will fight every inch of the way to bring our young people's future forward," says Cllr Corbett.