Mosquito noise device usage 'up to councils'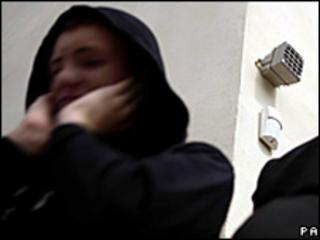 A device that delivers a high-pitch noise to disperse groups of young people should be controlled by councils, UK ministers have said.
The Mosquito, which is audible only to young people, has been installed at more than 3,500 sites across the UK.
It was invented by Howard Stapleton, from Merthyr, and a report for the Council of Europe has suggested it may breach human rights law.
Police Minister Nick Herbert has said it was not an issue for UK ministers.
It sends out a pulsing high frequency noise which can usually only be heard by teenagers and those in their early 20s, causing them discomfort.
The device can be turned on when its owner wants to disperse groups of young people.
Members of the UK Youth Parliament from across the country are also promoting a campaign called "Bite Back," which wants to ban the device.
They said they wanted "to get rid of harmful mosquito devices that deliberately target young people".
The UK Health and Safety Executive had concluded that while "some short term subjective effects" were possible with prolonged exposure to the noise, there appeared to be "little likelihood" of people suffering long-term ill health.
'Anti-social behaviour'
In a written reply to the Commons last Monday, Mr Herbert said it was for local authorities to take a view on using the Mosquito when dealing with anti-social behaviour.
He said: "In relation to the Council of Europe report and the issue of guidance, our stance is that we do not see this as an issue on which we should intervene."
He told Labour former minister Tom Watson: "If evidence was produced that the devices were harmful to health or hearing in the longer term, we would reconsider our position."
There have been complaints about the device, with children's commissioners and the human rights group Liberty having complained that it infringed young people's rights.