Instow beach safety initiative for school pupils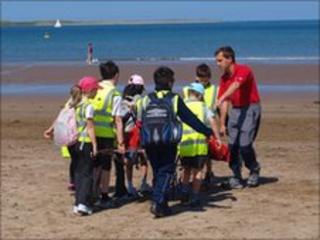 A head teacher has praised an initiative to give pupils "hands-on" experience of staying safe on Devon's beaches.
Children from Orchard Vale Community School and Instow Primary School spent a morning at Instow Beach with police and Exmoor Search and Rescue staff.
As well as safety advice and first aid tips, pupils were shown how to use a safety line and carry a stretcher.
Instow head teacher Mark Gough said the life skills were incredibly valuable.
"Living where we do near the beach, our children need to be very aware of the dangers," he said.
Helicopter 'highlight'
During the initiative, police officers explained their role during an incident, how and why the force helicopter is used and how police dogs are used to help search for people in sand dunes.
An RAF helicopter from RMB Chivenor then demonstrated a mock rescue with members of the Exmoor team.
This involved a casualty being strapped to a stretcher before being winched up into the helicopter.
Mr Gough said the helicopter exercise appeared to be the highlight of the day for the nine and 10-year-olds.
Police Community Support Officer Hannah Denton said: "It was a great morning and hopefully a lot of useful information was passed to the children."