Disused mineshaft collapses near Flintshire school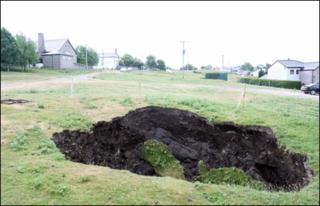 A 23ft (7m) wide hole has suddenly appeared on land near a Flintshire primary school.
The hole, in an area known to contain disused mine shafts, was spotted near Rhes-y-Cae Church in Wales school at Halkyn Mountain.
Head teacher Tracy Goodfellow said parents and children had been advised to stick to designated walking areas.
The Grosvenor Estate, which owns the land, has fenced off the three metre (10ft) deep hole.
Ms Goodfellow said: "We think it's probably a vein or a tunnel rather than a main shaft.
"We know this area sits above old mine shafts so this kind of thing will happen from time to time.
"We certainly wouldn't want to discourage people from coming to the area and going for walks, but we have reminded parents and children that there are designated walking areas."
Grosvenor Estate is planning bilingual warning signs until a solution is found.
Spokesman Edwin Christmas said the area had lead mining history which dated back centuries.
He added: "We'd like to reassure people in Rhes-y-Cae that we are working to resolve this as soon as possible."
"Because this area is a Site of Special Scientific Interest and a Special Area of Conservation we will be working very closely with the Countryside Council for Wales and Flintshire County Council to identify the best way of making the site safe."
He said experts were due to visit the site within the next few days.