Prosecutions 'will follow' Derry drugs arrests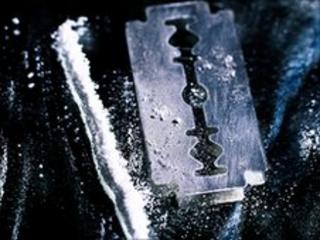 Police in Londonderry have said they are confident prosecutions will follow arrests made during a weekend drugs operation in the city.
On Friday, 13 houses were searched and 14 people were arrested. Eleven were arrested for drugs-related offences.
On Saturday, a sniffer dog was used in the city and five people were arrested.
"It's the first time we've used it. It was successful and it sends out a powerful message," said Inspector Jon Burrows.
"If you want to deal drugs, and you want to carry drugs, we will search you in your house where we have intelligence.
"We will deploy our resources to try and find out when you are carrying those drugs in our streets.
"We want to make this the safest city for people to live in and fighting drugs is a key part of that."
During Friday's house searches, quantities of suspected cocaine, amphetamines and cannabis were also seized.
Of the people detected by the sniffer dog, four were arrested for possessing suspected cocaine and cannabis and one person was arrested on suspicion of supplying cocaine.
In the last year, more than £1m worth of drugs were seized in Derry and 37 people were charged with supplying drugs.
There has also being a growing number of attacks on suspected and former drug dealers, attributed to the vigilante group Republican Action Against Drugs (RAAD), across counties Londonderry and Tyrone.