Prince Charles's private income increases by 4%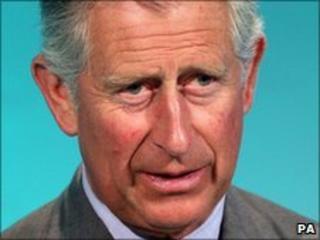 The Prince of Wales' private income increased by more than 4% last year but his taxpayer funding was almost halved, Clarence House accounts show.
Sir Michael Peat, Prince Charles's principal private secretary, said the reason for the fall in taxpayer funding was lower spending on overseas travel.
The main long-haul trip last year to Canada was paid for by the prince's hosts, Sir Michael added.
The figures showed official expenditure fell from £12.5m to £10.7m.
Funding from government departments and grants-in-aid amounted to £1.66m, down from almost £3m the previous year.
Private income from the Duchy of Cornwall amounted to more than £17.1m.
The prince's annual review suggested he and his wife, the Duchess of Cornwall, undertook 755 UK and foreign engagements between them in the last financial year.
Sir Michael said much of the 43,000 miles they travelled was done at the request of the government.
Of the overseas trips, he added: "It depends where the government wants them to go."
The accounts also showed:
Prince Charles paid almost 13% more tax, rising from £3.1m to £3.5m
Non-official expenditure fell by nearly 1%, from £1,710,000 to £1,694,000
The amount spent on official entertaining and receptions fell by more than half, from £527,000 to just £252,000
Sir Michael admitted the economic downturn had affected the way the prince's household had been run.
"We are living in the real world," Sir Michael said.
Prince Charles employs the equivalent of 124 full-time staff, including aides, financial and charity administrators, chefs, kitchen porters and gardeners.