More school leavers in Scotland 'making right move'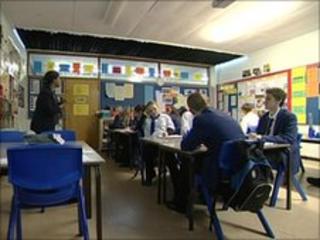 More young people than ever are going into further education, training or employment after leaving school, according to new figures.
Scottish government statistics showed 85% of young people found "positive destinations" after school.
A survey of more than 50,000 young people who left school in 2008/09 found 58% went into further or higher education, while nearly 30% got a job.
A further 4.4% went into training, according to the survey.
Overall, the figures showed a rise of more than 1% on the previous year, despite the economic climate.
The Scottish government said it was evidence that more young Scots were "making the right move".
Earlier this month, the Scottish government launched a £6.5m drive to help hundreds of school and college leavers find jobs.
'Extremely encouraging'
It aims to provide 800 vocational training courses for 16 and 17-year-olds and 60 entrepreneurial training opportunities to help youngsters set up in business.
Skills Minister Keith Brown welcomed the latest survey results.
"It is extremely encouraging to see that the support we are providing young people is helping them to find positive destinations that are right for them whether that is university, college, a job or modern apprenticeship," he commented.
"Recession hits young people hard and these figures show that record levels of pupils are staying at school or going straight into college or university.
"The full effect of the economic climate will be even clearer this summer as the same record levels of pupils and students leave school or college," added Mr Brown.