Paisley 'drawn and hung' at Stormont and Westminster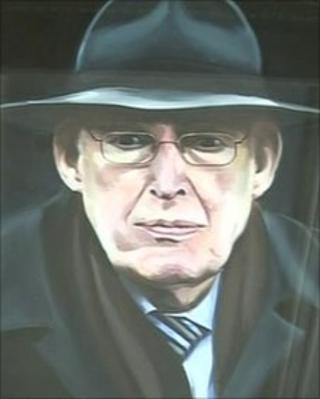 Last year it was Westminster, this year the formidable Ulster politician Ian Paisley has been "drawn and hung" at Stormont.
Irish artist David Nolan has unveiled his portrait of the former firebrand DUP leader who is soon to be known as Lord Bannside.
First Minister Peter Robinson, Deputy First Minister Martin McGuinness and Sinn Fein leader Gerry Adams were among the guests who joined the Paisley family at the ceremony on Monday evening.
Mr Paisley stepped down from the post of NI first minister in 2008.
Admiring the latest portrait - in which he is wearing his trademark hat - he said he liked it.
"It is excellent. It is sharp. It is to the point. It is just myself. There are just the people waiting to hear what I have got to say," he said.
The painting is based on a photograph of Mr Paisley taken by Northern Ireland news photographer Paul McErlane.
Last year, a portrait of the former firebrand as elderly statesman, painted by Northern Ireland artist Mark Shields, was unveiled at Portcullis House beside the Palace of Westminster in London.
It was pointed out that not even unionist icon Sir Edward Carson had such a privilege accorded to him.