Red Cross fire causes damage worth tens of thousands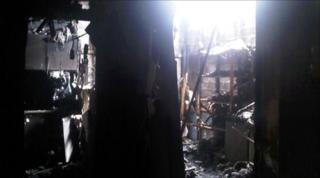 A suspicious fire at a Red Cross building has caused damage estimated at tens of thousands of pounds.
The fire destroyed the Red Cross training facility at West Church Street in Buckie, along with a large amount of first aid and office equipment.
Two men were seen nearby when the fire started at about 2300 BST on Sunday.
Grampian Police said they were keen to hear from anyone who may have seen them, or anything else suspicious around that time.
The Red Cross has appealed for anyone with premises which the charity could use in the wake of the fire to get in touch.
The charity also urged people to donate goods to be sold, and thanked the local community for its support so far.
Ian Rideout, operations director of the Red Cross Northern Scotland division, told BBC Scotland: "We are appealing to the people of Buckie to help us to provide a service."
Moray SNP MSP Richard Lochhead said: "It's horrific to think that anyone can think of doing such a thing but to deliberately start a fire at the premises of such an organisation as the Red Cross is beyond comprehension.
"The training facility in Buckie is a valued local asset and it is devastating to those concerned that anyone could attempt such an act of vandalism on purpose.
"The staff deserve much more respect than this."