No rain puts Eigg on toast watch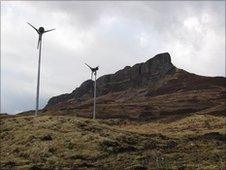 Residents on the Isle of Eigg have been trying to use household appliances less after a lack of rain affected its hydro power schemes.
The island community has won awards for its renewable power projects, which charge batteries to provide homes with electricity.
Eigg Heritage Trust secretary Maggie Fyffe said islanders were using items such as toasters as little as possible.
She said the isle has not had a heavy rainfall since about May.
Ms Fyffe said: "There is not a ban on toasters but it is the kind of thing folk are not using so much to help save power.
"Rain is something we have been short of this summer. The winter was pretty dry too."
Diesel generators automatically kick in when the renewable schemes lose power.
Renewable energy usually provides the island with 92% of its electricity.
As well as micro hydro-electric schemes, Eigg also has wind turbines and photo-voltaic cells which harness the power of the sun.
In January, the islanders won £300,000 to spend on community projects which reduce CO2 emissions.
The prize was awarded by the National Endowment for Science, Technology and the Arts (Nesta) after residents cut emissions by almost a third over the last year.
Eigg beat off competition from communities across the UK to win a share of a £1m prize in Nesta's Big Green Challenge.
The island was the only Scottish finalist.
Related Internet Links
The BBC is not responsible for the content of external sites.