Funding hope for Aberdeen's historic Tivoli theatre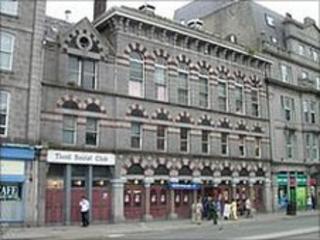 A historic Aberdeen theatre which is falling into disrepair could be set to stage a comeback.
The Tivoli, which has been described as a "national treasure", has not seen a performance since the 1960s.
But a local businessman is hoping to secure funding that could see it restored to its former glory.
Brian Hendry is applying for more than £500,000 from the city's Green Townscape Heritage Initiative, which will make a decision in September.
The initiative is a five-year conservation-led programme aimed at restoring Aberdeen's historic Green.
If successful, the money would be used to make the building safe and water proof. It is expected to cost a further £4m to refurbish the interior.
Aberdeen City Council said on Tuesday Mr Hendry's funding bid had taken a "significant step forward".
Mr Hendry said he hoped acts could be back on stage in the next two or three years.
Three stages
"This was always going to be a three-stage process for me," he said.
"The first stage was to secure the building and this was done last September. Stage two was to save the building, which we are now entering.
"And with the help of Aberdeen City Council, the Lottery Heritage Fund, the Green Townscape Heritage Initiative and Historic Scotland, I'm delighted that work should start soon to protect the building's future".
The Tivoli, which stands in Guild Street, Aberdeen, was built in 1872 as Her Majesty's Theatre before changing its name following refurbishment in 1910.
The late Calum Kennedy brought the curtain down on the Tivoli's life as a music hall and theatre in 1966.
It served out its life as a bingo hall until closing its doors in 1997.