Brooke Kinsella to review knife-crime strategy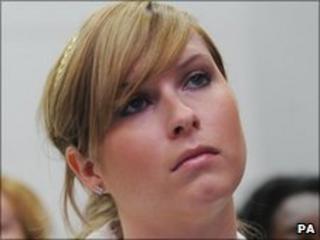 The former EastEnders actress Brooke Kinsella is to head a government assessment of schemes aimed at tackling knife crime across England and Wales.
She will consider whether projects designed to deter young people from violent crime are actually working.
The announcement was made exactly two years after the murder of her brother Ben, 16, who was stabbed 11 times on a night out in Holloway, north London.
The prime minister said she brought "passion and insight" to the role.
"She knows how violence can shatter people's lives - but she also believes it doesn't have to be this way," added David Cameron.
"I look forward to working with her in a determined, unremitting fight-back against youth violence."
'Amazing journey'
Ms Kinsella will sit in on education sessions, meet mentors and speak to young people, before presenting a report to Home Secretary Theresa May later this year.
A Home Office spokeswoman said at the moment it was unclear precisely which projects Ms Kinsella would visit.
Earlier Ms Kinsella had described her memories of her brother's killing, which happened as he celebrated the end of his GCSEs and led to a rally in London against knife crime.
"It is horrible and you look back at the footage, and it feels like it was yesterday that we were on the march and yesterday that it happened, but we are all right," she told GMTV.
"I have been on the most amazing journey and got to do some brilliant stuff, and from Ben's legacy, laws have been changed.
"We now have his trust that has been set up and we are going to do some amazing stuff with that this year.
"We are taking small steps, I think, as a country, but fingers crossed, we will get there one day."