Ministers to rule on fast-tracked big planning schemes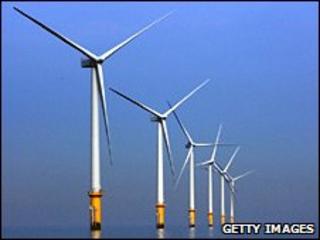 Ministers will regain the final say over major planning projects such as airports - after abolishing the new Infrastructure Planning Commission.
The IPC was set up by Labour to rule on big developments such as power stations to avoid lengthy and costly planning inquiries.
Big projects will still be fast-tracked but ministers say it will be more democratic if they make decisions.
Labour said changes were "overhyped" and that much of its plan remained.
Costly inquiry
The government has also proposed giving tax rebates to residents who accept major building projects in their neighbourhood. Ministers hope that the offer of money will ease controversial developments through the planning system.
The IPC, whose powers largely apply to England, was set up last year to streamline decisions on projects deemed important to the national infrastructure - for instance, high-speed rail lines, nuclear power stations, wind farms and airports.
It was created after the longest planning inquiry in British history, into Heathrow's Terminal Five, which took four years and cost an estimated £80m. It was another two years before consent was granted and the terminal finally opened in 2008 - 15 years after the planning application was submitted.
But the IPC proved controversial - many Labour MPs raised concerns about it and the Conservatives had pledged to scrap it, arguing that removing the final decision from ministers was undemocratic.
It started work in October 2009 and although it has 42 proposals at a "pre-application stage" - carrying out consultations and environmental impact assessments - none has yet been formally submitted.
The government said it would be replaced with a new Major Infrastructure Planning Unit in the Planning Inspectorate, which would continue to fast-track projects.
Minister Greg Clark said new infrastructure was " critical to the country's return to economic growth" and major projects had to be fast-tracked, but in an "accountable" way.
"The previous system lacked any democratic legitimacy by giving decision-making power away to a distant quango on issues critical to every community in the country."
He told the BBC that ministers were also considering changes to offer more incentives to local communities where big infrastructure projects were being built.
He said one plan was to allow the local area to benefit from the first six years of business rates - currently paid to central government - so they had a "stake in the development".
He denied it was a form of bribery, saying it was "sharing the benefits".
'No delays'
The government says it will also make national policy statements - which set out what types of projects the country needs - subject to ratification by Parliament.
But the former Labour minister John Healey told BBC Radio 4's World at One programme: "I think they are overhyping the change. I'm glad to see they are keeping much of the new single system that we put in place 18 months ago."
He said national policy statements, public consultation, strict timetables and national experts were staying.
But he said if ministers were to take a "fresh look" at plans after the planning inspectorate had taken its view, it could slow the process down.
He dismissed the idea the government was making a big change: "What they are doing is moving the IPC, which they call a quango, into another quango - the planning inspectorate. It's moving the same experts into a different place and calling them something different."
The changes will need to go through Parliament and the IPC will continue to work in the meantime.
Crossbench peer Baroness Valentine - chief executive of business group London First - told the BBC she had mixed feelings about it as some planning decisions could prove "hairy" for politicians.
"So long as actually those difficult political decisions about the things like nuclear power stations and high-speed rail routes actually get taken in a timely manner, we can probably work without an IPC - but that's a big 'provided'."
A spokesman for the IPC said the decision was expected and the body would be "working with the planning inspectorate in government to ensure a seamless process continues".
The IPC has about 40 employees - although it says some work on a "flexible basis" and are not full-time to ensure "value for money".
Fiona Howie of the Campaign to Protect Rural England which had raised concerns about the IPC, said it welcomed the announcement but would see how it worked in practice.
The Department for Communities and Local Government spokesman said: "We are bringing parliamentary and ministerial accountability back into the planning system.
"This will reduce the scope for expensive and time-consuming challenges, speeding up the whole process compared to the previous flawed regime."