Drummer backs Dementia Awareness Week in Wales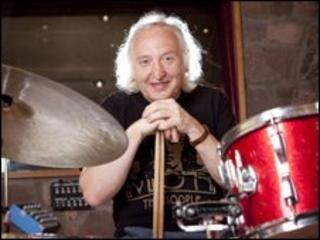 A former glam rock drummer has spoken about how dementia has stopped him "in his tracks".
Dale "Buffin" Griffin, an original member of '70s band Mott The Hoople, has spoken publicly about having Alzheimer's.
He is supporting the Alzheimer's Society's Dementia Awareness Week, which runs until 10 July.
The drummer, who lives in Usk, Monmouthshire, said he was "fearless" before being diagnosed.
Mr Griffin has shared his experiences in support of the Alzheimer's Society's Remember the Person campaign, which encourages people to engage with dementia sufferers and their carers.
Research shows that many people fear and misunderstand dementia. This causes them to avoid people with the condition or treat them differently, which leads to sufferers and their carers becoming isolated.
"I used to be fearless, but Alzheimer's has stopped me in my tracks," said Mr Griffin.
"It is my dreadful little bug and I have to fight to keep it from controlling me.
"Alzheimer's has prevented me from doing a lot of the things I love, like reading and writing, but I try to keep as relaxed and easy going as possible."
Encores
Mr Griffin released 14 singles and eight albums with Mott the Hoople before they split in 1974.
At a five-gig sell-out reunion at the HMV Hammersmith Apollo last year, Mr Griffin was unable to perform for the entire show but he appeared for the encores, including All the Young Dudes and You Keep A'Knocking.
"It is really important for people to 'remember the person' and look beyond someone's diagnosis of dementia," he added.
"Many old friends now avoid me as they do not know what to say, which is really hurtful.
"I just wish they would realise that, inside, I am still the same old Buffin I always was."
New research from the Alzheimer's Society has found that almost a third of people in Wales would not know how to get information and support if they were diagnosed with the illness.
Sue Phelps, acting director of the Alzheimer's Society in Wales, said: "It is terrible that so many people would not know how to get information and support following a diagnosis of dementia.
"Health Minister Edwina Hart has recently announced plans to improve services for people with dementia in Wales and this should be a landmark year for people with dementia and carers.
"But we need better awareness and information so that a diagnosis of dementia is not such a frightening experience."
A task force formed in 2008 by the Welsh Assembly Government, the Alzheimer's Society in Wales and health professionals carried out a consultation to find ways to improve the lives of sufferers and their families and carers.
In a statement in April, Ms Hart said: "A great deal of work has taken place to identify the actions required to ensure that we have effective services for people with dementia in Wales.
"The task now is to ensure that real improvements for individuals and their families are delivered through the priority actions that have been identified."
The Alzheimer's Society has produced tips on how to support a family living with dementia, including popping round for a cup of tea or a chat or helping out around the house to allow the carer to have a break.
There are 37,000 people living with dementia in Wales, which is due to rise to 50,000 in the next 20 years.