Shares slump on European bank fears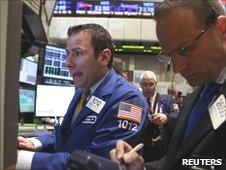 Global stock markets have fallen sharply amid concerns over European banks and the health of the global economy.
On Wall Street, the Dow Jones Industrial Average closed down 2.65%, adding to similar falls in Europe and East Asia.
Investors are concerned that European banks could face funding problems, with loans due to be repaid this week.
There is also evidence to suggest a weaker recovery in China and the US.
Europe's stock markets were hit hard, with the UK's FTSE 100 slipping 3.1%, France's Cac 40 losing 4% and Germany's Dax falling 3.3%.
The euro also weakened, helping push the pound to a new 19-month high against the euro.
The pound rose almost half a cent to 1.2389 euros, its highest level since the immediate aftermath of the financial crisis in November 2008.
The European Central Bank (ECB) will offer funds on Wednesday to banks looking to repay 442bn euros worth of loans later this week.
Last summer, the ECB was forced to offer European banks cheap 12-month loans to help them through the financial crisis. This was a longer repayment term than the usual three to six months.
But the ECB has said it will not offer 12-month loans this time around, raising fears that European banks may again face funding difficulties.
"Markets are tense going into the end of the long-term refinancing programme, along with [Wednesday's] three-month auction," said John Hydeskov, senior currency analyst at Danske.
And as Jane Foley, research director at Forex.com, points out, the rate at which banks lend to each other has more than doubled in recent months.
So with heightened concerns about which banks still have bad loans on their books, there is a growing fear among investors about the health of the European banking sector.
"Tension in the banking sector is running high and the euro will remain under significant pressure [as a result]," says Ms Foley.
Little is likely to change until the results of European bank stress tests, which should reveal the extent of bad loans on their books, are released in September, she adds.
Wider unease about the strength of the world's biggest economies has also hit investor confidence.
Earlier, influential US forecasters the Conference Board said the Chinese economy probably grew by 0.3% in April - much lower than the 1.7% growth previously estimated.
Meanwhile the same body's index for US consumer confidence showed a sharp drop for June, following three consecutive monthly rises.
"Increasing uncertainty and apprehension about the future state of the economy and labour market, no doubt a result of the recent slowdown in job growth, are the primary reasons for the sharp reversal in confidence," warned Lynn Franco, director of the Conference Board's consumer research centre.
Concerns over the eurozone helped strengthen the pound, but analysts also credited the government's austerity plans with helping the currency gain value.
Fears among credit ratings agencies and investors about the UK's burgeoning budget deficit have been allayed by last week's Budget, in which the new coalition government announced stringent measures to cut spending and increase taxes to reduce debt levels.
Sterling has also benefited from comments made by Bank of England Monetary Policy Committee (MPC) member Andrew Sentance on Monday, in which he said the UK would need to start raising interest rates soon.
Mr Sentance voted to raise rates at an MPC meeting earlier this month.
Analysts said that if inflation remains well above the Bank's 2% target rate, the pressure to raise rates will increase.
Inflation, as measured by the Consumer Prices Index, currently stands at 3.4%.
"If inflation expectations show further signs of rising, and if nominal demand remains robust, we think the MPC will become increasingly uncomfortable with the current loose policy setting," said Barclays Capital.
Higher interest rates make sterling a more attractive investment and tend, therefore, to increase its value.