Liverpool closer to getting a full-time council leader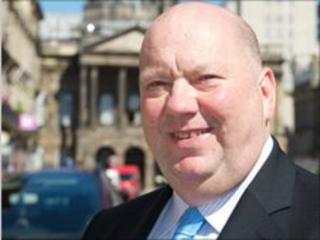 The role of leader of Liverpool City Council has been recommended to become full-time by an independent panel.
If approved by a meeting of the full council on 21 July it will bring Liverpool into line with other cities.
Former leaders, Warren Bradley and Mike Storey combined their roles with part-time jobs as a firefighter and a head teacher.
New leader, Joe Anderson said he wanted to work full-time for the city.
The independent panel on members' allowances has proposed that the position is increased to five days a week and that the special responsibility allowance is raised from £21,049 to £42,100.
A council spokesman said that the four-person panel reached its decision after examining how allowances were paid in cities like Manchester, Leeds and Birmingham.
It also took into account new regulations that mean the leader is elected for a fixed term of four years and has increased responsibilities, including chairing the City Region Cabinet.
In a report to the council, the panel said it was "essential to recognise the weight of responsibility and the very long hours that the position by definition demands".
Labour council leader Joe Anderson, who plans to resign his job as a social worker at a school in Crosby, said: "I always said I would be a full time leader, and I am pleased that the panel are of the same view and are making this recommendation.
"It enables me to focus completely on dealing with the numerous complex challenges that we are facing.
"Whether it's the budget, improving housing, bringing investment into the city or addressing major health issues, this is a full time job that demands a full time leader.
"Anything less is simply not good enough for the people of Liverpool.
"Although my allowance will increase, I will not be any better off financially than I was as Leader of the Opposition because I have given up my previous full time job."