Bird tables pose threat to red squirrel population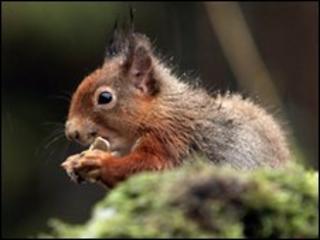 Bird tables could be endangering the lives of red squirrels, according to researchers from Newcastle University.
A study found they bring grey and red squirrels into close contact, thus creating a "hotspot" for a pox virus.
The virus has no apparent effect on grey squirrels but is invariably fatal to their red cousins.
Introduced in the 19th Century, the North American grey squirrel has spread across the UK while native red squirrel numbers have plummeted.
Studying the squirrels in Northumberland and the Scottish Borders, researchers found infection rates were particularly high during spring and at a low in autumn.
This peaks corresponded to times of the year when both species roam further afield, either because of a shortage of food or while searching for a mate.
Dr Peter Lurz, one of the authors of the research, said: "What this clearly shows is that creating points where the two species of squirrel are likely to meet is actually putting our reds at greater risk of infection.
"Encouraging them to your garden and feeding squirrels in areas where both red and grey squirrels occur, while it may be done with the best of intentions, could actually do far more harm than good."